Soft Skills as an intervention has been initiated at Trust level at Shri Vile Parle Kelavani Mandal (SVKM) and the emphasis is placed on the all-round development of the students, thereby equipping them to face life after college. The soft skills training provided to the students assist them in identifying and achieving their own personal potential (https://svkm.ac.in/Placement%20and%20Soft-Skill/M__225). We at department of Soft Skills at NMIMS Deemed-to-be University borrow from the vision of SVKM and provide teaching and training intervention on Soft Skills which include Bahavioural Trainings, Career Initiation Skills and Corporate Readiness Skills to our students at various school under the Mumbai campus.
Aim:
For students, to be a primary resource for any intervention on Soft Skills, which includes interpersonal and intrapersonal relationship skills building, personality development and enrichment, and up-to-date business/corporate readiness training.
Objective:
To provide platform to students so that they develop essential Soft Skills required in personal and professional life
To enhance holistic growth potential in a learning environment that encourages participation and learning without any inhibition
To build behavioural skill-sets through experiential learning that allows addressing current interpersonal and intrapersonal challenges in both personal and professional setting
Who are we?
We are a unique and one-of-a-kind project initiated, established and guided by the top management leadership team of SVKM's NMIMS Deemed-to-be University, Mumbai Campus, across 14 plus schools to impart an essential and crucial segment of life skills called Soft Skills.
Soft Skills as a term encapsulates all that is not considered Hard Skills such as ones' qualification and certificates of achievements. It's a skill that is an integral part of any life-long learning for any individual at any stage of their life. At NMIMS, we focus on getting our students prepared for the Volatile, Uncertain, Complex and Ambiguous (VUCA) world through teaching them essential life skills and getting them ready for the contemporary business world through tailor-made and customised Soft Skills modules.
The Life Skills and Citizenship Education (LSCE) Framework of United Nations Children's Fund (UNICEF) sets out 12 core life skills: creativity, critical thinking, problem solving, cooperation, negotiation, decision making, self-management, resilience, communication, respect for diversity, empathy and participation (UNICEF and partners, 2017). These skills have been selected as those most needed for the life outcomes of learning, employability, personal empowerment, and active citizenship (UNICEF and partners, 2017). The world of academia imparts much-needed skill-sets in various domains that equip our students to play effective roles in the corporate world or in the sphere of entrepreneurship. What prepares them thoroughly for the rigors of life as a responsible citizen both of the nation and corporate is the intervention in Soft Skills which attempts to address the 12 life skills outlined above.
The formal curricula, in commensurate with contemporary research, need analysis and topics identification, designed by every school under the NMIMS family address some elements of Soft Skills. However, there is an ever-increasing need to reach out to every student on a deeper level to ingrain in them the tools to develop essential life skills, the resilience in times of hardships and the confidence to cope with daily stressors of life on the one hand and to ready them as a responsible corporate citizen of the 21st century.
We are a team of teachers cum trainers who have at least a decade long professional work experience in the area of Soft Skills. Besides, conducting full-time student learning engagement with various school, we frequently stay in touch with the current needs of the industry and bring those best practices in the class.
What we do:
Department of Soft Skills consists of three key points of intervention: Behavioural Skills, Career Initiation Skills and Corporate Readiness Skills: -
Behavioural Skills Include:
Developing students' intrapersonal and interpersonal relationships
Enhancing their current competency so that they are able to address, handle and manage communication situations of varied kinds
Honing listening skills and developmental feedback delivery skills
Psychometric Profiling – tests and activities that allow the students to know who they are and how they can go about adjusting and adapting to the current VUCA (Volatile, Uncertain, Complex and Ambiguous) world
Reinforcing positive behaviours through various activities and initiatives geared towards developing strong self-esteem and self-worth.
Developing and enhancing business communication skills like presentation skills, group discussion, business writing, etc.
Career Initiation Skills and Corporate Readiness Skills:
Conducting oneself as a corporate citizen of the 21st century
Hand-holding students on getting a first-hand approach on interviewing skills like Personal Interview, Group Discussions and Case-Study Analysis.
Preparing our students for the future of work – instilling in the values of ESG (Environmental, Social and Governance)
Being a constant support and coach for students who require help transitioning from campus to corporate
What we offer:
Classroom sessions – conducted school-wise basis the requirements and need identification
Open-workshops – Sessions conducted in an open-invitation e.g., Topics on The Leadership Skill – Sharing Feedback, Expectations Management, The Art of Persuasion (especially for Digital Marketing, Social Media, Global-MBA courses), Listening & Empathy, Creating Positive First Impression, The Art of Story-Telling, etc.
Individual attention to students on case-to-case basis
Leading and managing student Initiatives such as Debates, Public Speaking Club, etc.
How we are unique:
The faculties in the department are industry experts who bring to class the contemporary definition of soft skills and its real-time use in the corporate setting of today.
The programmes are designed keeping in mind the following:

The student feedback and requirement
The school's area of focus
The skill-sets required in today's business environment
Latest research on soft skills across the corporate domain and management institutes

The courses we offer are at its core a 'threshold free' structure thereby giving the students added opportunity to dive deeper into their experiences and explore new levels of knowledge application.
"I got the opportunity to learn from the Department of Soft Skills during my final year at B.Sc Economics, NMIMS, during which I gained crucial learnings on topics ranging from business etiquette to the do's and don'ts of an interview process. Sir has gone above and beyond to help us personalize our CV's, nudged us towards identifying our strengths and made us build confidence in our abilities. He imparted knowledge on the combination of behavioural and technical competencies that recruiters look for in a candidate and encouraged us to pursue our dreams! I can't give enough credit to Sir for helping us through the interview process, his confidence in our ability pushed us to have faith in ourselves. It was a pleasure to get to learn from someone like him."
BSc Economics (2022), SAMSOE
"Hi! I am an angry young man looking for life's purpose. It was second year of engineering. I was mentally and emotionally a complete mess, and was just trying to get through the daily drag. Trying to fit in. Trying to ignore the constant "amazing words" of people in my college just because I was the way I was. That was when I met you. A mentor in the truest sense, you changed my life's trajectory and you inspired to be a better version of myself, and most importantly, in this world of chimpanzees, you inspired me to be a gorilla and be myself. This is not your stereotypical feedback mail, but then again, this is not your stereotypical engineering student ;)
To sum it up, thank you so much for always being there and teaching me important life lessons. Looking forward to learning more from you!"
BTI Mechanical (2022), 3rd year MPSTME
"The best thing about the soft skills department is the approachable faculty who go out of their way to help you not only with your academics but also with your skills. From facing interviews to other real-life professional situations, they ensure we always stay on the top. They've helped us refine ourselves by bringing us closer to what actual corporates would be like. With a full-fledged training on skills we must ace at, as freshers, to have a great kick-start of our professional journey, they are playing a vital role to make us employable."
BPharm + MBA (2021), 5th Year, SPPSPTM
Excellent professor. I had an interest in psychology, but she generated more of it as the days passed by and made me more aware of the human mind, thinking process, human behaviour, tactics to live a better and satisfied life, and much more. The teacher as well as the course generated more curiosity for the so called boring subject "psychology". Thanks to mam...
MCA: Semester I (2019), MPSTME
All the activities during our soft skills training Programme by Krishna Ma'am were very engaging and interesting. It was an effortless and natural consumption of understanding the purpose of any activity. Even being present online, never felt that we were missing out on the fun. I loved how every soft skill was trained through new and exciting ways. It used to be relaxing, refreshing and an organic learning
MBA – General Management (2022), NMIMS Indore
Thank You so much ma'am! We had excellent sessions with you! And we are really grateful to have learnt from you about various aspects of being in corporates. Also, not to forget, you have been extremely kind and patient with solving our doubts. Thanks a lot for being so co-operative and imparting the knowledge that would not be easily forgotten
Niyati Mudliar, Assistant Professor (Biological Science) and Course Coordinator, SVKM's Shri C. B. Patel Research Centre
Prof. Mohammed Naveed Shaikh
Assistant Professor, Soft Skills
---
Qualification: MMS Human Resources, MSc in Counselling and Psychotherapy & Certified DiSC® Behavioural Analyst
---
Currently associated with NMIMS as a full-time faculty - Prof. Naveed is a communication & Behavioural Skills Trainer-Coach-faculty with more than 16 years of experience in Training and Development, Recruitment, Human Resource Management, Performance Appraisal, Consulting, and Business Development. He is also a practicing Psychotherapist & Counsellor - has trained people across all verticals with diverse modules, with excellent communication Skills & flair of being able to manage audience from fresh recruits, School Principals, Senior Teachers, Faculties, and Students to Senior Management in Corporates.
Conducting Career Initiations Skills, Corporate Readiness, Behavioural Skills & Communication Skills Training & Coaching.
Besides, he has more than two years of experience in Theatres – Acting, Scripting, Direction, Conducting workshops on Stage Craft, Body Language, Facial Expression, Voice Modulation, Speech & Diction and Public Speaking.
Prof. Krishna Chande
Adjunct Assistant Professor, Soft Skills
---
Qualification: MA (Major) Organizational Psychology & Advanced Diploma in Counselling Psychology
---
An erudite teacher and a counsellor with more than 13 years of professional and academic work experience has previously worked at Accenture in project management operations. Besides, she has also worked as a consultant on several organizational development and human resource management projects at various MNCs. Apart from NMIMS, she has also taught students at Podar International School and Jamnabai Narsee International School. At Indira Gandhi National Open University (a highly recognised central university with NAAC accreditation of A++), she taught, mentored and guided many students on their research projects in psychology.
To her credit, she has had experience training managerial level employees for Indian fortune 500 conglomerate in petroleum refining, German multinational Fortune 500 conglomerate in industrial machinery and Fortune India 500 in automotive industry.
She was felicitated at the hands of Dr. K. M Kulkarni, former director of Higher education, Maharashtra Govt. and also by Education Times & National Institute of Event Management. She was also recognised for her exemplary contribution in teaching at NMIMS(Shirpur)
At NMIMS, with over 10 years of service, she has trained many students, staff and faculty. She has been highly recognized and appreciated in various capacities by corporates and educational institutes alike. She is currently the faculty mentor for 'Chitrarth' - The Film Society and 'The White Hats' at MukeshPatel School of Technology Management & Engineering (MPSTME) Mumbai.
Prof. Karishma Ahuja
Visiting Faculty from the Industry
---
Qualification: MCom Major in Management, PGDBM – Finance & Post Graduate Diploma in Instructional Design
---
A passionate and self-motivated trainer with more than 10 years of training experience across various participant groups. Adept at making training programs, as interesting as possible so as to make learning more fun and effective. Seasoned trainer with an experience in training junior to middle management employees on topics ranging from selling skills, products, processes, English speaking, soft skills and etiquettes.
She has worked extensively with the Indian retail industry with associations with known brands like Viviana Mall, Nexus Malls, Inorbit Mall, Hypercity, Raymond, Pantaloons, Linen Club, Unicharm etc.
She has also been visiting faculty at NMIMS University (Mumbai), SVKM (Dhule), ITM (Navi Mumbai and Vadodara), N.L. Dalmia Institute (Mumbai).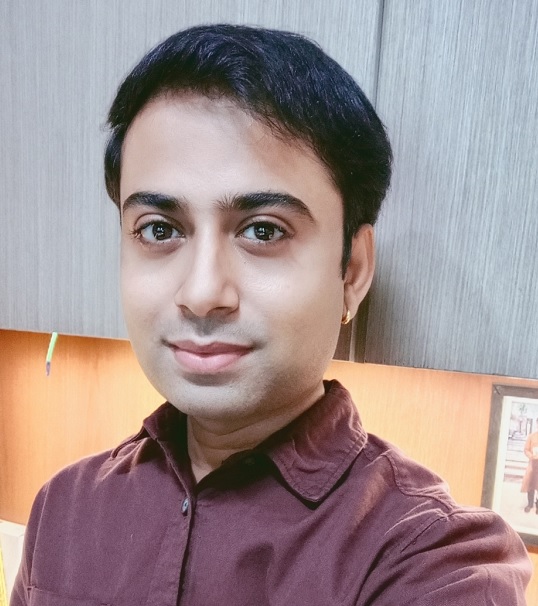 RITESH HALDANKAR
Department Head
Assistant Professor, In-Charge – Soft Skills, School of Business Management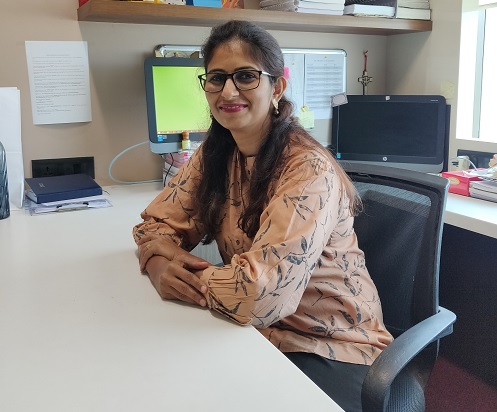 Ms. Hemangi Kambli
Coordinator
Train the Trainer
The Life-skills department of NMIMS deemed-to-be University in collaboration with our in-house counsellors conducted a "Train the Trainer" program on 7th November (second half) and 8th November as a part of its content development and sharing of best practices objectives.
The sessions were conducted by the core team of the department as indicated below:
Emotional Intelligence by Professor Krishna Chande
Motivation and Resilience by Meeta Shah (Senior Counsellor) and Assistant Counsellors Joel Gibbs and Nazneen Raimawalla.
Neuro-linguistic Programming by Professor Ritesh Haldankar
Creative Group Discussions by Dr Madhavi Gokhale
Team-building by Professor Ocean Gonsalves.
The program also included a theatre workshop by Shreyas Desai of Myriad Arts with the objective of linking elements of the theatre with soft skills.
There were 15 participants in all including the core team. The sessions were well-received and all the participants were deeply satisfied with the learnings and takeaways.
Ms Hemangi Kambli rendered excellent support as the coordinator of the program.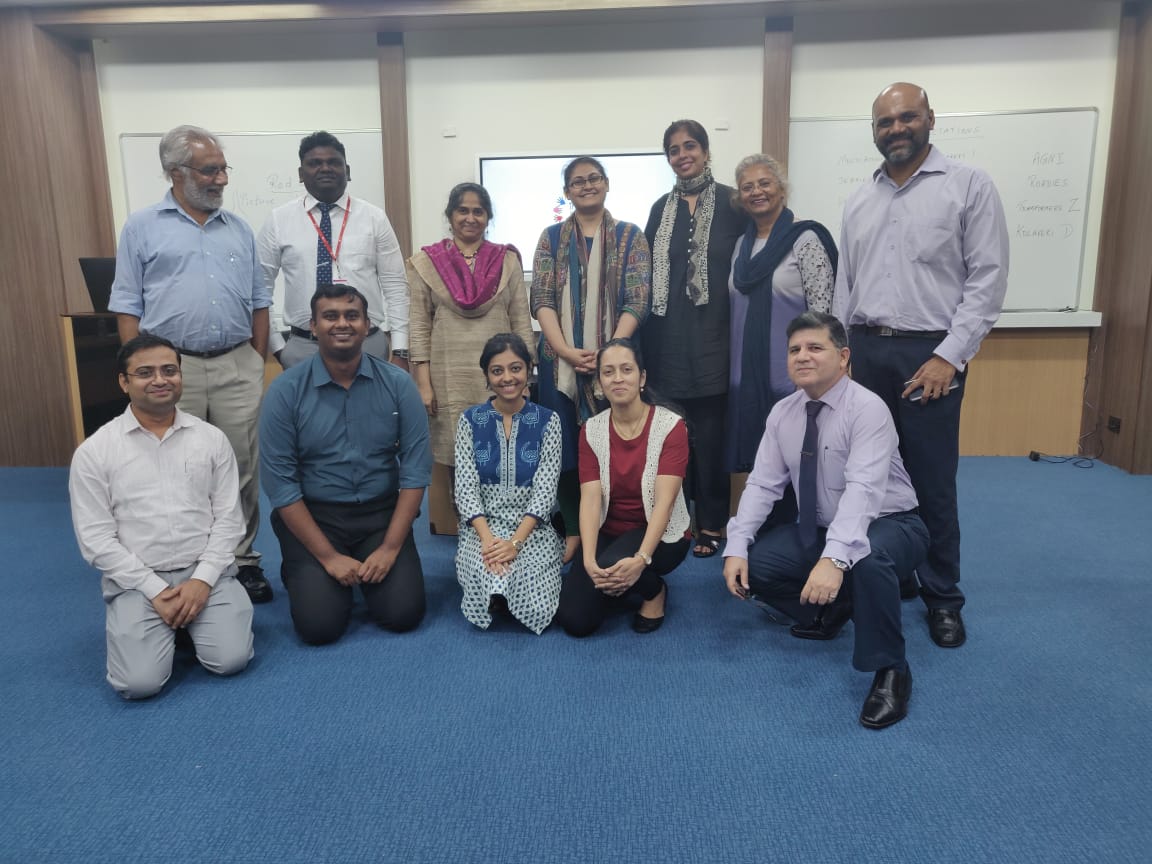 Standing from L to R: Dr Ambrish Bhatt, Professor Mahendra Tayde, Dr Madhavi Gokhale, Professor Krishna Chande, Professor Karishma Ahuja, Meeta Shah, Professor Ocean Gonsalves.
Seated from L to R: Professor Ritesh Haldankar, Joel Gibbs, Umangi Mehta, Professor Poojaa Jadhav, Professor Neville Mehta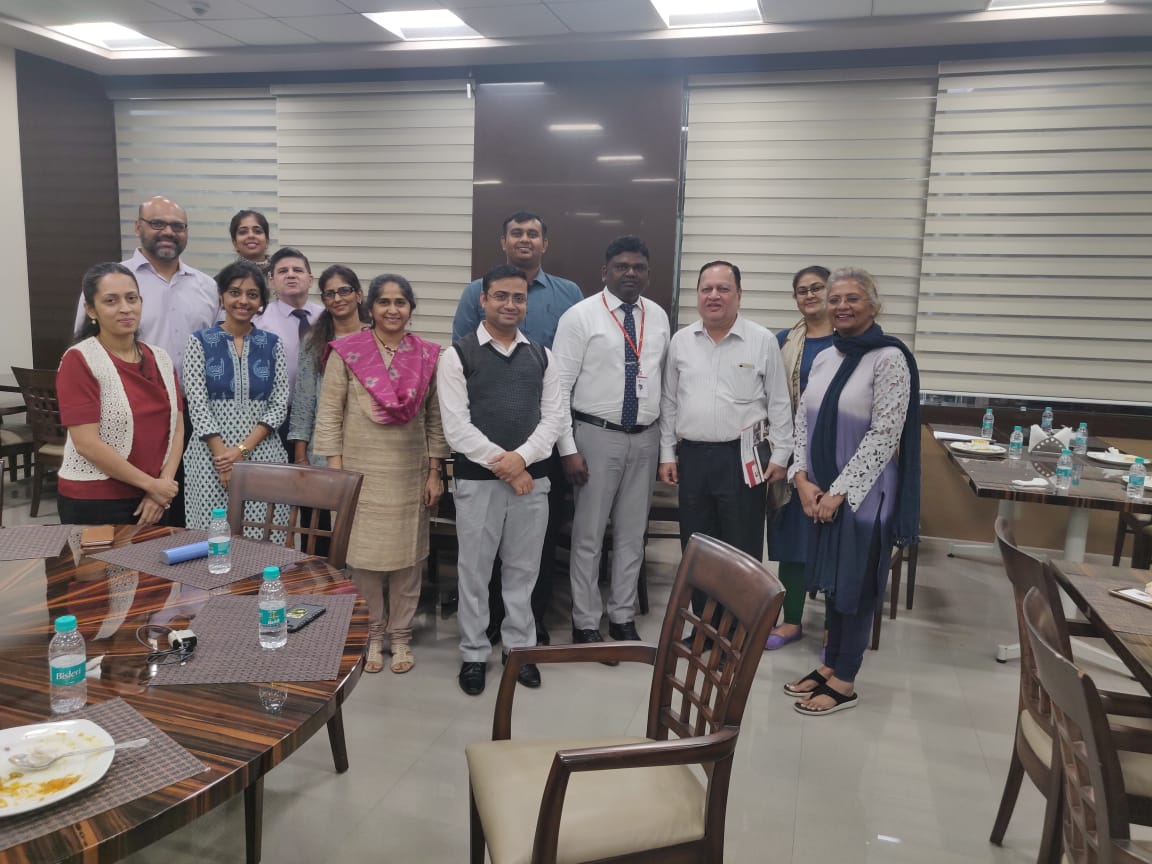 Dr Sharad Mhaiskar (Pro Vice-Chancellor, NMIMS University) with the participants and Hemangi Kambli (standing next to Professor Neville Mehta)